You can savor delicious, fulfilling Oneness,
Wholeness you've been craving;
At Home or Work, Alone or with Others, with Family or Friends…
Anytime, Anywhere.
No matter Who you are, What your experience has been…
BEing LOVE can be experienced differently by each of us,
it can be a Fulfillment of our:
Drive to Belong, fit-in,
Need to be Known, seen, heard, Accepted,
Passion to Serve, bring our Gifts, to Matter…
.
Hunger for Intimacy,
Romantic Fantasies,
Spiritual Yearnings…
Love in our Culture is often understood to be
very tied to relationship status, family structure, success/ popularity.
But,
Our Dreams of Belonging, Intimacy, Connection, Love…
can come true,
regardless…
We dont have to
look
act
perform
strive
or
succeed
in any particular way
to be immersed in love.
BEing LOVE, we are Welcome:
– OPEN to give and receive Goodness
– FREE to be us, and let them be them
– SAFE to enjoy the playful Dance, without so much Stress!
BEing LOVE is a Process,
of allowing, unfurling, healing, overcoming, growing, fruition…
BEing LOVE is a Journey,
it takes time, intention, attention, focus, willingness, courage, tenacity…
But the fruit starts coming rather quickly, for most.
SO MANY have turned their Relationships, Life, Reality;
from a new perspective, with new inner tools – to a new Consciousness.
Would you like to Come play with us?
Shift your Experience of Love!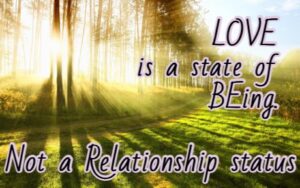 Come as my Guest to our 2021 Love Intensive
Invest in your Self: Share, Learn, Heal, Shift
… Deepen into More:
– Intimacy, Belonging, Connection
– Self-Acceptance, Inner Value, Owning your Worth
– Community, Soul Deepening, Action
Sign-up to come as my Guest: http://eepurl.com/hk9TPL
The sooner you join, the more graceful the journey, and the more resources you will receive
See you soon!
Wendy
PS
Your Deepening 'Journey into LOVE' is a Life-long Adventure.
And,
I Promise if you fully engage in this week-long INTENSIVE,
you will shift your experience of love,
at least within your soul, at least a little.
You will receive:
a week of daily activities & community, supporting your unique Journey into LOVE
culminating in a taste of BEing the LOVE you Want – a 2 hour highly interactive workshop
Come give it a try:
Sign-up to come as my Guest: http://eepurl.com/hk9TPL