Thursday Evening, ACTIVE Meditation PLAYshops w/ Wendy & Friends.
LEARN more & Sign-up
 for our December FOCUS:
Soul emPOWERment
Are you uncomfortable with/ conflicted about Power?
– how it looks in the world: in individuals? in Systems?
– how it has hurt folks you love? hurt you?
Do you associate Power with Abuse? Domination? Evil?
– with Resisting & Grasping; with Fighting & Control?
– with Manipulation & End-running/ Conniving?

Have you learned that you HAVE to be in Effort & Striving?
– Pleasing & Trying-hard; Pushing & Pulling; Running & Struggle?
– You Should be Better… already, yesterday… SO, the whip cracks?

.
Maybe it's time to consider?
– Healing, Reframing, allowing a more Empowered Perspective…
– Understanding your relationship with Power differently?
Are you Ready to Learn New Tricks?
Allowing Energy, Potency, Sacred EmPowerment
– for Yourself,
– for those you advocate-for,
– for the world you want to help create?
Let's Play with a new way to perceive & allow Spiritual Blessings:
* Soul emPOWERment – ALLOWING True Power (not Force)
BEing In the FLOW of the
– Energy of Life,
– Power of the Holy Spirit, of the Divine,
– Potency of the Life, Love, Truth, our Way – Spirit…
Provided with the SOUL Potency, Energy, Power it takes
– to realize our Free Will & get what we need
– to Live & Move, to Be & Do, to Say & Have
– to live our Purpose, make our Impact
* From here,
Letting-go of Soul temptations to false, not-spiritual power:
Without Force, Without Effort
Freely IN the FLOW of Life.
* From here,
Unlocking our deep, Soul strength, courage and un-stop-ability/ inexorability.
Organically Blossoming in our soul, to our world,
alive to the natural Flow of Blessings.
* From here,
Naturally opening to new Possibility, Choice and Action in our Soul.
Creating with ease and grace, as we choose, in our world.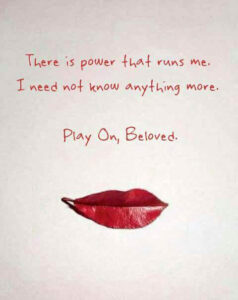 .Please Come: Enjoy a Taste of Soul EmPOWERment
We Practice a different way of BEing & enjoy/ share the Fruit.
Shift your experience of yourself & your world.
Come Learn HOW:

PLAYshops w/ Wendy R Wolf & Friends:
.
.
Dec 2: Allowing Spiritual Power 
Healing & Conscious Creativity IN Soul EmPOWERment
ACTIVE Meditation an Healing & Conscious Creativity CIRCLE
Group work w/ Individual energy tune-up & coaching.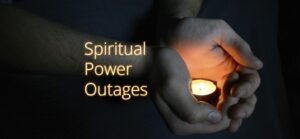 .
.
Dec 9: Dancing with the Divine in Soul EmPOWERment
BEing with Master Jesus & Savoring the Fruit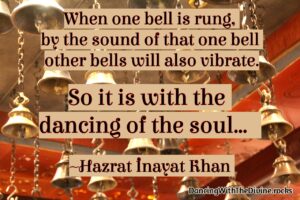 .
.
Dec 16: Align with your Source, Allow Spiritual POWER to FLOW 
SOUL/ Mystic FOUNDATIONS: ACTIVE Meditation PLAYshop!
Validating your Soul Senses & Abilities, utilizing them to SHIFT.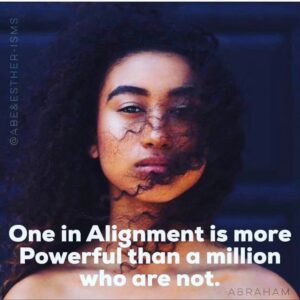 .
.
Dec 23: Dancing Intimacy w/ Soul EmPOWERment & Boundaries
* Being Vulnerable and Really Showing-up more Deeply in Relationship?
* Compassion, Communication, Connection, Communion?
* Comfortably, Safely Savoring a Delicious Dance with Friends & Relations, Body, Earth, Spirit?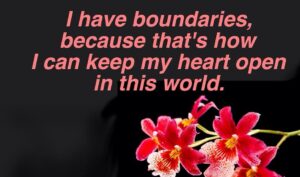 .
.

Jan 30: Dancing w/ the Divine in December Devotions:
Soul EmPowerment: Soaking IN Heaven & PLAYing on Earth
Special ZOOM Invitation Page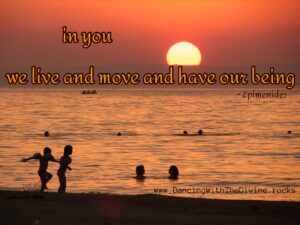 .
.
Do you want 'Soul emPOWERment' enough, to try something NEW?
..
We share simple inner tools
that have inspired & assisted thousands to shift their lives.
Why not YOU, too?!


…



We Support & Equip you
* To
ALIGN on Purpose
-> FOCUS & SHIFT
-> from the Inside-out


…



* To BE the Change:

-> Empower Direct Soul Engagement

-> Overcome, Become, Come to Fruition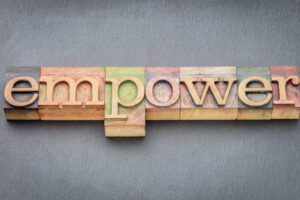 Have you Tried Everything to find more Soul emPOWERment?

Try ACTIVE Meditation!
.
WHY try one more thing?
-> Your True BEing, DOing, IMPACT… Matters
HOW is this possible?
-> Soul Technology: Learn Leverage from the inside -out
WHAT can you receive?
-> Inner Tools & a proven Process to support & move you.
-> Be Informed, Understand, Choose & Act from within your Soul,
Beyond your everyday Consciousness, thoughts, beliefs, feelings…
Develop, in the vicissitudes of life

a Safe, Solid place within, a Rock on which to stand,
more Trust-in your Soul Senses, to Perceive Spiritual & Physical reality more Clearly & Confidently, and
new ways to Leverage you Abilities, within: to Powerfully Choose And Shift: keys within your own soul.

 
Thursday Evening, ACTIVE Meditation PLAYshops w/ Wendy & Friends.
LEARN more & Sign-up
 for our December FOCUS:
Soul emPOWERment