I utilize the word LOVE in my work,
because it speaks to people.
Most of the time, we think we know what we are talking about.
But, regarding Love, Do we?
Love is a particularly messy word
it has so many meanings, and aspects,
It points to so much that is under, over, before, after… beyond words.

And do others mean what we mean?
Rarely.
Love as we talk about it,
is hard to grab… like fog.
For me, in the realm of Love, there are SO many aspects:
Each of the major energy intelligences in our body
contains different information and capacities,
opening different flavors around Love: Belonging, Intimacy, Oneness, etc
Each POV within us, contains various realities: spirit, soul, body, feelings, thoughts…
all have a different interface as Love.
We notice varying manifestations of Love, depending on
relationships, communication, sexuality, agreements, boundaries…
We enjoy (or don't) varying experience of Love, depending on our
soul agreements, beliefs, programming, experiences, focus,
wholeness, worthiness, past experiences…
It goes on and on – many layers to this onion, IMOe.
Love is a driving force for most of us,
deep in our Soul and in our Life,
inside our skin and in our world.
If we care about love,
want it to grow within,
and be shared in our world,

I believe it helps to get more conscious
and continue mastering our Relationship-with and Skills-around Love. 
What does it mean to realize it?
What does it look-like to share, to live-in, speak, act through it?
When can I trust that I am (and others are) operating in it?  
Who can we share it with, in ways that are real?
Where can we learn how it all Works?
Why do we experience it, and not?
HOW can we enjoy it fully?
We can go on and on in these questions.
wouldn't it be useful to continue to delve into this central experience?
Which many say is our most fundamental experience, to share it, to be it.
i want to know what love is.
(yes most of us are singing it – here is a link to
Foreigner: 'I Want To Know What Love Is', scroll down a bit,

surrounded with a story behind the song, which I enjoy ; )
~
Want to get a Taste of what is Possible, IN Love?
Enjoy a workshop, as my guest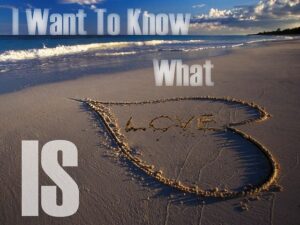 Read more… 'BE the LOVE you Want' themed posts