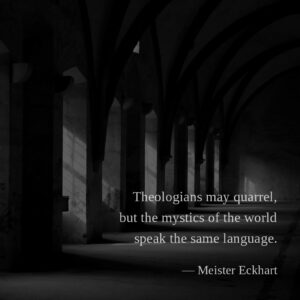 Are you Crazy About God?
Are you a Mystic?
Do you want to be?
Come join our Everyday Modern Mystic Community!
Want some details?  Then please read on  
.
.
What do YOU mean by 'God'?
.
God can be an uncomfortable word, topic for some of us.
It seems like a simple English word, but for many of us, it packs some serious energy!
.
Do you mean all, some, none of these?
What words do you prefer when speaking of θ ?
the ONE,

Divine, Source, Supreme Being

, 

Light, Love, Truth, Life, Way;

your unique relationship – with the God/ Goddess of your heart;

your spiritual

perception

 and relationship-with your Beloved,

Presence, 

Lord, Holy One, Holy Spirit, Great Spirit, Creator, Allah, HaShem,

All-That-IS

…
.
.
What does 'Crazy about God' look-like, feel-like, to YOU?
.
Can you relate to all, some, none of these experiences?


How would you express your relationship with θ ?
Desire, craving, yearning-for, fulfillment with God.

Not just…
– spiritual practice, religion, fitting-into our religious culture;
– ethics, acting/ being good;
– getting into heaven, paradise, nirvana; becoming enlightened;
– being successful/ blessed – getting the 'goods': health, wealth, career, relationships…

Do you want God More/ Less than these wonderful things?

 
 .
If YOU were designing a Mystic Community, what would you create?

.
What would serve you? Bring you Joy?
Would you like to?
.

– gather, support, learn-from, inspire,
– give and receive through modeling and mentoring.
– connect with everyday folks, from all walks of life, all over the world, who desire, crave, choose:
a deeper spiritual life,

a more real soul-level connection with the Beloved,

a more realized (real in the world) Dance with the Divine,

a more integral experience of spiritual reality in everyday life…
Are you Living the Mystery?  Are you open to Mystery?
interested-in, honoring, profiting-from others' journey in God;

even when their understanding is different from yours…
 .
Is there already a lot of stuff for Mystics?  Do we need more?

.
What kind of Community have you found, as a Mystic?
Are you satisfied? Are your needs met?
.
I have found some place can be:
distractions from spiritual experience… a focus on:  intellectual, academic, scholarly, doctrinal, judgment, religion, empty-ritual…

learning about the life and wisdom of Great Mystics, or great mystic theories…
instead of actual spiritual experience

.

..
.
.
I would like to say hello to some of these things, above,


but I would like to

focus on:

actually being a mystic

, ourselves.

practicing being with God, enjoying the fruit of opening, maturing spiritually… ourselves.
sharing and supporting each other through the good, the bad, the ugly and the beautiful; the pitfalls and mountaintops in the process.

learning and applying levers & distinctions

, practices

, supports, ways of being and focusing our attention and intention, that serve us on our journey.


(and noticing what doesn't serve us)
.
.
Are you Crazy About God?
Are you a Mystic?
Do you want to be?
Do you want to delve-into the questions above, and much more,
with others who are like, and unlike you?
.
Join-in when you can, as little or as much as you choose, with:
– Social as well as Learning opportunities, Online and In-Person.
– Interviews with Everyday Modern Mystics, who are consciously and actively engaging with God, and their spiritual journey.
– Private Facebook Group – with interactions available at your convenience.
And please invite your friends, who might be interested
(regardless of their spiritual/ faith-tradition – or lack-thereof ; )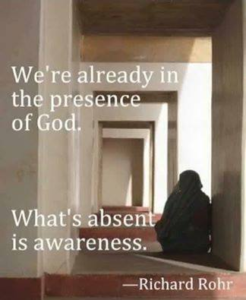 .
If you want to learn more, here are some links:
This is my vision for how our Mystic Journey can help shift our world
– I'd love to hear your vision
– and co-create our beautiful world, together…
.
Everyday Modern Mystic Blog
– Read some of what I think, let me know what you think,
– Learn about some upcoming offerings…
Blessings on your Unique Journey!
Wendy
Learn more about my ministry and what I offer here