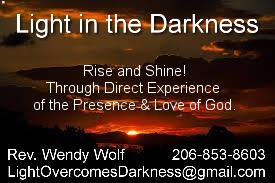 Do you yearn to more consistently:
Enjoy Jesus' Comforting Presence and Guiding Hand?

Overflow with the Fruit of the Spirit, in your everyday life?

Live, Love and Shine the Light in your world, authentically?
For so many of us, God's Promises are not experientially REALized in our lives.
We get tastes of Glory,
we try to 'fake it til we make it', we just 'go along to get along'…
Many have given up, but You don't have to!
God is Here, God is Real, God is Available to you.

God offers a delicious Relationship for your soul and a unique Path for your life.
I hope you say YES! to Direct Experience of the Presence & Love of God,
and do whatever it takes until you live beholding and reflecting the Glory of the Lord!
.

If you would like support, guidance, inspiration, a friend along the Way…
I am blessed to offer wisdom, expereince, as well as tried & true tools to support your spiritual blossoming.
I offer group interactions and personal sessions.
I offer the information and spiritual practices that are most useful for you, now.
Usually it is a weaving of these general categories, although we can focus specifically where you choose:
Meditation with Jesus – practicing your direct Experience, Communication, Blessing and Authority in God.  This is the foundation of everything I practice and everything I offer.  We 'Be still and know God', more deeply.  We keep our spiritual eyes on Jesus, and he is the Door.  I share inner tools & techniques which make this a lot easier than you may have experienced in the past.  I am like the 'personal trainer' – teaching, supporting, inspiring you to build spiritual muscle and to go further than you thought you could in your inner Journey with Jesus.
Spiritual Direction – inspiration for your spiritula deepening, and walking your unique path in Joy.  An invitation for you to trust your spiritual senses and to be led and fed by God, directly;  to blossom into the beautiful flower that your are.  Jesus shows you the way.  I am like the 'gymnastics coach', I am there for you, however you need support, or if you fall – but, it is not about me, I just 'spot' you through the 'rough' parts, and encourage you to Play and to Shine.
Soul Counseling – support allowing the transformation of your life from the inside out, utilizing your specific concerns as an impetus.  This is spiritually-focused and spirit-led support for you to learn, heal, grow, and find the blessing in your emotional, relational, professional challenges… and then you can let those challenges go, keeping the gifts.  Folks work with me instead of going to a traditional therapist – consensus is, this route is faster, cheaper, and more spiritually empowering.  I have a lot of training, life expereince, 'clinical experience', and spiritual wisdom that I bring to the table.  But, really, Jesus leads the way.
Deep Healing – Every challenge (rising from the dark) and every opportunity (dancing into the Light) offers us the possibility to heal and grow into our spiritual maturity.  I am called as a Healer, everything I offer IS Healing.  I see spiritual healing as everything that clears the physically-focused, heavy and dark (the world, the flesh and the devil) and brings us to our maturity in God, and more consciously to our spiritual experience, easy and light (the Kingdom/Reign of God).   This is how we invite God's Healing, into your body, your inner and outer life, your relationships, your spiritual expereince.  Jesus is the way.
Break the chains of Darkness and LIVE in the Light! –  are you committed to Living in the Light, but REALLY feel held DOWN by the Darkness?  I walk with you through the most Intense, gnarly issues and malicious challenges – you CAN live in God's Freedom!
.
The light shines in the darkness, and the darkness can never extinguish it. (John 1) 
.
You can enjoy a helping hand, someone who walks the path beside you.
Please contact me to get started!
If you would like to know more? See About page.
in Life,
Wendy

206-853-8603
LightInDarkness@LifeAbundantly.us
Stay in Touch:  Facebook and e-Newsletter
.
Come to Me, all who are weary and heavy-laden, and I will give you rest.  (Matthew 11)

.

What folks are saying about their experiences:

Wendy is a powerful healer. Working with her was a profound revelation. Afterwards I felt ready to shine my light bright.
– Lucy, Greater Seattle Area

I have LOVED working with you, you are amazing.  And I hope you know what beautiful gifts you give to all of us through your presence, wisdom, and the way you show up in the world…. I'm hoping  – change that, planning – to work with you again in the future in some way!  So you just get ready for that.
– JH, Seattle

Wendy Wolf is an incredible instructor and healer. Since I started attending Wendy's workshops and classes, my life has changed and the way I experience myself and others has improved dramatically. In addition, she is an excellent teacher and her energy and presence always has a positive impact on me. I use her techniques daily and continue to attend her classes. I have also brought friends to her workshops and they always thank me for it and want to come back for more! I would recommend Wendy to anyone I know, and do! She is awesome!
– Danielle, Seattle

Meeting Wendy each week has created the forward momentum that I was looking for. Before I began personal sessions I had been meeting regularly with doctors and mentors, it was good to get to talk about my life honestly with another person. When I switched to sessions with Wendy my life went from manageable to malleable. Today I find that my life is so much more than I ever could have imagined. I feel in control and empowered. It's hard to put into words; all I can say is that it's the greatest earthy gift I've consciously encountered as far as what I do for ME. I hope that this path finds others as it found me.
–  RG, Seattle
.
I have come that they may have life,
and have it more abundantly.  (John 10)